Hey folks!

Well today I have 2 pages for you! Great right!? I think so! So here we go.. I love the idea of working with sunburst papers! I love incorporating pictures where the burst begins! It just looks so eye popping to me!
Here's what I came up with..
I scrapped a page of a disastrous but adorable first time finger painting experience with my son!
No for those of us who tend to scrap pages upon pages upon PAGES of our little ones, vacations, pets and so forth but never of ourselves, this next one I would love for everyone to try! Even if you don't have this beautiful kit or don't want to buy it, you can surely use a kit that suites you! Scrap an inspiring page for yourself! Give yourself some motivating words, push yourself! Set goals and tell yourself you can achieve them. Scrap it how it best shows who you are, and remember to have fun with it! Remember, if you are stuck on where to start, check out neat templates! Let me tell you, this page wasn't easy, but once I came across a template I loved everything else just flowed to me! So here we go!!
This is what I came up with...
I will never give up, and I am making it obvious in this scrap page!
So... Let's keep in mind.. Work with sunburst papers! They are always fun to work with and of course beautiful and come in so many different colors and textures. Also, treat yourself to an inspiring page, something to push yourself to feel better about you! Something that makes you feel stronger! We are all strong, if we don't feel that way, sometimes a simple page can help!
-------------------------------------------------------------
Now what's to come huh? Well I've decided that the freebie will be an Alpha pack! Wahoo!! But that's it for now. HA!
---------------------------
I have saved the best for last!
Sahlin Studio
has this months featured kit up on
The Lilypad
it's 30% off so check it out!!
&& Here's an After Dark Freebie guys!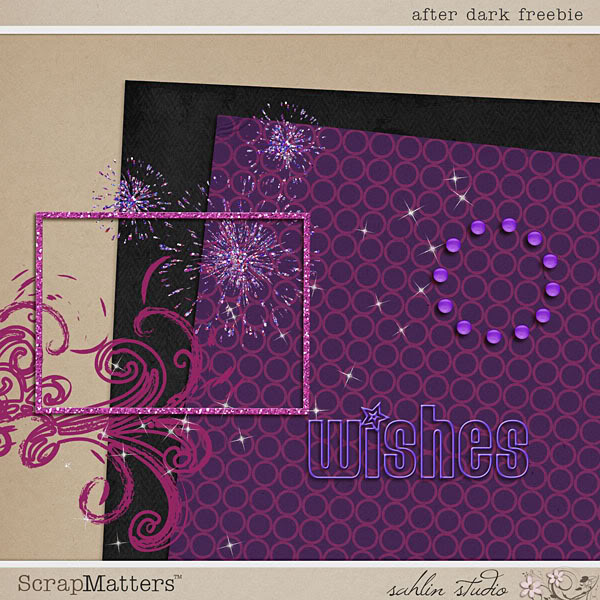 Just get it at her blog!
HERE
Well I hope this was a fun filled read for you girls! Enjoy the freebie and the kit if any of you decide to get it! Have fun scrapping and try new things! Keep your eyes peeled for that Alpha Pack!
Until next time!
Happy blogging :D